Chihuahua Club of SA Hall of Fame
South Australia proudly introduces a small selection of present and past Chihuahuas that have made their own special mark through out Australia!
Grand Champion Staplechi Wild Justice.
Bred, owned and handled by Robyn Stapleton.
Sire and grandsire of many champions and grand champions.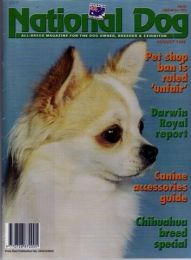 Grand Champion Peejaymini Duble Trouble

"Chugsly"

Multi in Group winner - Pointscore winner

Owner: M Locke
Champion Donreo Blue Jeans

A big winning girl and one of the top produces of all time

Some progeny include *Champion Donreo Opal

*Champion Janleo Casa Don Cisco

Owner: P Harris
Grand Champion Staplechi Midnight Duel

"Dooley"

Major Wins include

* BOB Royal Melbourne Show 1998

* Reserve Challenge Adelaide Royal 2003

* Top Smooth South Australian Pointscore Winner 2001/02/03

* Best in Show Chihuahua Club SA Champ Show 1999

* R/U Best in Show Chihuahua Club of SA Champ Show 2000/02

Owner: I Nicholls
Champion Vonderham Peppi

1982 - 1997

Major Wins include

* Top Longcoat in the ring for 5 years. Over 700 points when was retired.

* Many in group awards

* Puppy of Breed Victorian Champion Show

* Two Adelaide Royal Show BOB

* One Melbourne Royal Show BOB

* Best Exhibit Chihuahua Club of SA Inc

Owner: I Nicholls
Grand Champion Bonito The Ants Pants

"Knickers"

* Multiple BISS Winner

* Longcoat of the Year (SA) – 1987,88,89,90 & 91

* Over 10 Best in Groups

* Two Runner up Best in Show (all breeds)

Owner: Mary Squire
Champion Donreo Autumn

* Best in Specialty Show - SA Chi Club Championship Show 1991

* Dam of South Australia's first smooth Grand Champion

Owner: Janine Warren
Grand Champion Janleo Autumn Eagle

* Multi Group and Show Winner

* South Australia's first smooth GRAND Champion

Owner: Janine Warren
Champion Peejaymini Bionic Basil

"Henry"

* Top Longcoat South Australia 5 consecutive years

* Back to back BIS Chi Club of SA Championship Show 95/96

* Best in Show All Breeds Championship Show

* Multi Best in Group winner

Owner: Mrs Phyl Harris
Champion Apocodeodar Largo

"Patrick"

* Patrick was a wonderful pre-potent Sire & produced

20 Champions mainly to outcross Bitches

*He was only used by two other breeders. Producing of note Champion Rubeden Shady Lady Spiv, Champion Donreo Autumn and Champion Donreo Black Opal

* Shady Lady Spiv won the SACA Guineas at the Royal Adelaide Show against 66 allbreeds
Champion Vayacondios Spanish Lace

* She had an outstanding Show career and was awarded

Runner Up in Group at the Adelaide Royal Show, but has been most successful as a mother

* Dam of the following Champions:

* Champion Vayacondios Spanish Gold

*Champion Vayacondios Scaramouche

* Grandmother to the following Champions:

* American Champion Vayacondios Silk n Spice

* Champion Vayacondios Silk n Lace

* Champion Vayacondios Mr. Frodo

* Her litters were small but quality

Owner: J Anderson
Grand Champion Voncronan Clever Dick

"Clive"

* 1500 + points when retired

* Some of his major wins spanned over four states including:

*Best Exhibit in Group - Western Aust. All Breeds Champ Show

*Best Exhibit in Show - Victorian Chihuahua Specialty Show

*Best Exhibit in Show - South Australian Chihuahua Specialty Show

* Runner Up Best Exhibit in Show - New South Wales Chihuahua Specialty Show

* South Australia's Top Longcoat for 3 consecutive years

* Sire of BISS & BIG Winner Ch Allsan Better Than Ever

Owners: Dianne & Kylie Sunman
Contact Details
President
Brian Alonge
Ph 0412 803 649
Email : [email protected]
Secretary
Lorretta Stephenson
Ph 0419 532 040
Email : [email protected]
PO Box 228
Kilburn North SA 5084